Hello Monday, hello folks!
Following on the previous post from last week which showcased part one of Tattoo Parlour  - a range of chunky and bold statement pieces inspired by elements of the rockabilly subculture.  I'd like to introduce part two of the range which I've now added to my Etsy shop! Taking and editing photos takes time hence doing the range bit by bit, there are more pieces of Tattoo Parlour to come – so lovely people please stay tuned.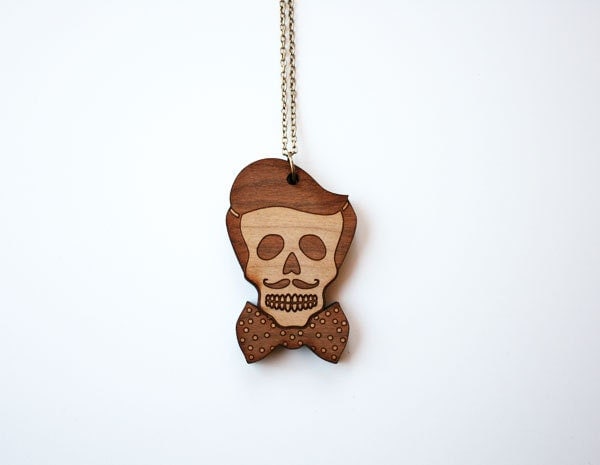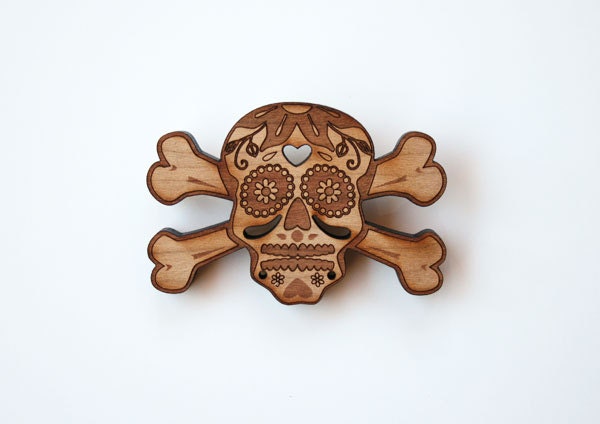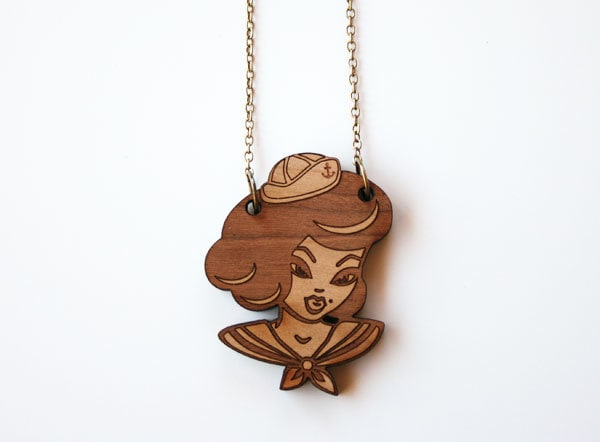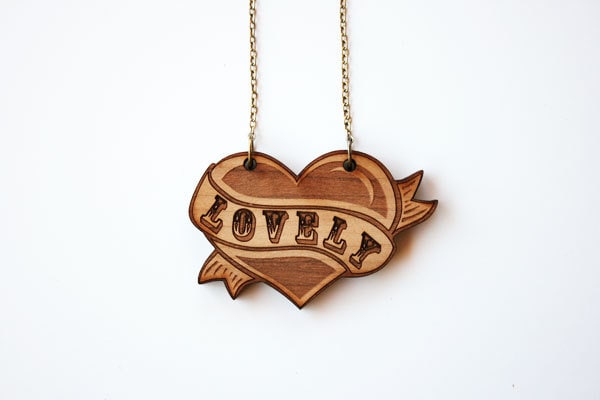 From top to bottom:
Senor Paco wooden pendant
Los Muertos wooden brooch
Sailor girl wooden pendant
Lovely heart wooden pendant
There's something about crowds that stresses me to no end but last night, I put on my big girl pants and braved through the throng of people to attend Sparrow and Jack's opening night. I guess the allure of beautiful jewellery, prints, books and fashion outweigh the possibility of a social breakdown!
Isn't this tag darling?
I fell in love with this vintage stand…and of course the candles on display smelled delicious.
Hot diggity, that's right – my jewellery sitting amongst  the loveliest of prints, books and candles. Thanks so much to Asha and Bec (pictured middle left), the two beautiful ladies behind Sparrow and Jack for showing interest in my pieces.
My first impressions of the shop is positive, I love the eclectic mixture of items available and everything was displayed ever so nicely!  Pssst.  Another awesome thing I should mention about Sparrow and Jack - not only is it a boutique, it also doubles as a sewing lounge. So if you've been thinking of learning how to master the needle and thread, here's your chance!
Like their Facebook page …
and make sure to visit in person, they are officially open for business this Sat (8th Dec)
Carine Glades, 4/473 Beach Rd Duncraig, Perth, Western Australia 6023.
I'm getting there, I just need to finalize a few more things
and I'll be able to start uploading some of the new pieces onto my Etsy!